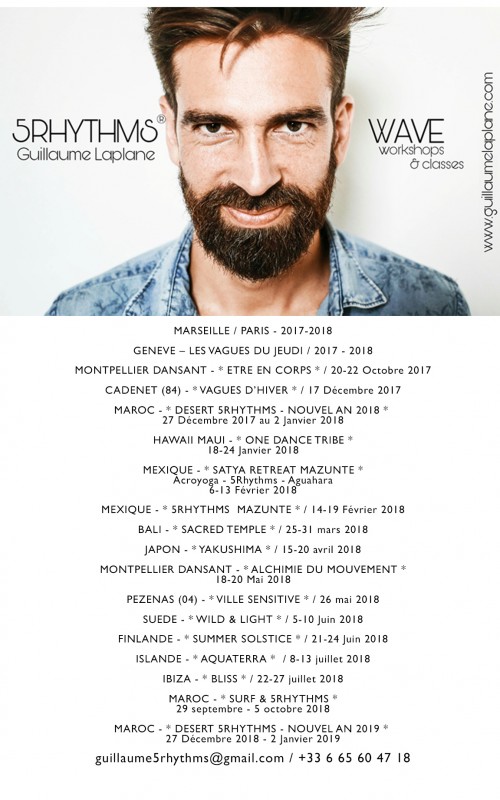 To receive details or register to a workshop fill out this Form.
Pour recevoir des informations détaillés ou vous inscrire à un stage remplissez ce formulaire.
La nature est pour moi une grande source d'inspiration dans le développement de la relation à soi, aux autres et à nos environnements de vie. Bienvenue dans la magie de ces lieux pour l'exploration des cartes que nous offre la pratique des 5Rythmes.
FAITES DEFILER VERS LE BAS POUR VOIR TOUS LES STAGES – CALENDRIER GOOGLE ici
Nature is a deep source of inspiration to me to developpe the relationship to one-self, to others and to our life environnements. Welcome in the magic of this stunning sites for our exploration of the 5Rhythms Maps.
SCROLL DOWN TO SEE ALL WORKSHOPS – GOOGLE CALENDAR here
Atelier « VAGUES DES 5RYTHMES – HIVER »
+ musique LIVE – Cadenet (84)
+ atelier pour enfants avec Valérie Le Roux
*
Dimanche 17 décembre 2017 14h-19h
Lieu: La Fontaine de l'Aube
inscriptions:
Isabelle : zabou.moreau@laposte.net 
+33660968911 / envoyer 20€ d'arrhes par chèque:ordre Guillaume Laplane.
Adresse: Isabelle Moreau
3a Rue De L'académie 
Marseille 13001
*
DESERT 5RHYTHMS NEW YEAR 2018
MAROC / MOROCCO
5Rhythms® and Elemental Exlorations
December 27th, 2017 – January 2nd, 2018
7days – 6 nights
LIVE MUSIC
*
DESERT 5RHYTHMS NOUVEL AN 2018
Danse des 5Rythmes® – Elemental Explorations
27 décembre 2017 au 02 janvier 2018
7 jours & 6 nuits
MUSIQUE LIVE
*
Count as 30h of Waves® preriquisite for the 5Rhythms RTA teacher training
Danse des 5 Rythmes® & Elemental Explorations
« Une retraite en mouvement hors du temps, en plein coeur des dunes du désert sud Marocain de Merzouga. Un espace privilégié pour accompagner notre passage dans la nouvelle année
5 jours et 6 nuits de danse, de musiques acoustiques traditionnelles, d'invitation à la méditation, de respiration en conscience, de partages légers, de temps pour soi.
Les pieds dans le sable, le coeur au soleil et les étoiles dans les yeux, nous danserons les 5 rythmes en invitant chaque jours les qualités de présence qu'ils nous inspirent et nous permettent de développer. Nous explorerons les états de présence que révèle en nous l'atmosphère sacrée du désert, notre aspiration à la contemplation et au silence.
Nous découvrirons la richesse de ses matières multiples et les échos que ses paysages révèlent dans notre capacité à vivre avec quiétude.
Les journées seront structurées par deux temps de danse et de méditation en groupe de 2h30 et le reste du temps sera libre selon les envies et aspirations de chacun afin de pouvoir vivre son propre rythme dans cette semaine d'exploration unique.
Nous serons chaleureusement accueillis et accompagnés par mes amis musiciens Berbères fervant percussionnistes des rythmes de transe Gnaoua.
Un petit campement de tentes traditionnelles est spécialement monté pour nous en bordure du désert de dunes et du désert noir aux belles pierres. »
J'ai passé 11 séjours magnifiques dans ce petit désert qui révèle chaque année un peu plus de sa paisible et fascinante magie, l'accueil y a toujours été d'une grande et généreuse qualité.
Bienvenue ! 
Tarifs et détails: email: guillaume.laplane@gmail.co
m / +33 6 65 60 47 18
*
Tarifs:
790€ tarif super réduit 10 premières inscriptions avant le 15.09.2017
840€ tarif réduit avant le 15.10.2017
890€ tarif plein après le 15.10.2017
+
Part enseignement + Part hébergement 7 jours & 6 nuits au campement + bus
Vols et hotels à Marrakech à votre charge en sus et à reserver par vos soins.
*
30h de "Waves" comptant comme prérequis à la formation d'enseignant 5 Rythmes®
5Rhythms® & Elemental Explorations
"Dance, Song, Music, Silence and beautiful stars…Presence.
A Breath for oneself, a contemplation and integration of the ending year.
Time and space for inspiration, rest and Creation.
Our moving footsteps, ephemeral, humble, sensitive. An authentic Encounter between the shadow and the light, towards oneself and the Essential seeds that will germinate in us for the year to come."
» A retreat in timeless movement, right in the heart of the dunes of the Moroccan south desert of Merzouga. A space favored to accompany out passage in the new year. 5 days and 6 nights of dance, traditional acoustic musics, meditation, conscious breath, simple and meaningful sharings, time for oneself. Feet in the sand, heart in the sun and stars in our eyes, we will dance the 5 Rhythms by inviting every days the qualities of presence which they inspire to us and allow us to develop. We will explore the states of presence that reveals in us the sacred atmosphere of the desert, our inspiration in the pondering and in the silence. We shall discover the wealth of its multiple materials and the echos which its landscapes reveal in our capacity to be lived with peace of mind. Days will be structured by two times of dance and meditation in a group of 2h30 and the rest of the time will be free according to the desires and the aspiration of each to be able to live its own rhythm in this week of unique exploration. We shall warmly be welcomed and accompanied by my friends Berber musicians fervant percussionists of the rhythms of trance Gnaoua. A small camp of traditional tents specially rose for us in border of the desert of dunes and the black desert of beautiful stones.
Informations & Booking: guillaume.laplane@gmail.com / +33 6 65 60 47 18
Fees:
790€ Super Early birds price for the first 10 registrations before September 15th, 2017
840€ Early birds price before October 15th, 2017
890€ full price after October 15th, 2017
including
Teachings + Accommodation 7 days & 6 nights in the camp + bus
Your flights and hotels in Marrakech are in extra cost and to be booked by yourself.
*
Count as 30h of Waves® preriquisite for the 5Rhythms RTA teacher training
Informations & Booking: guillaume.laplane@gmail.com / +33 6 65 60 47 18 – www.guillaumelaplane.com | www.5rhythms.ch
SOLSTICE GROOVE
*
Finland – June 21rst-24th, 2018
Place: Elontuli – 1h from Helsinki
24h of Waves® level practice that will count as prerequisite for the 5RTA teacher training
informations:
in Finnish & English:
Adam First
rebalancingfinland@gmail.com
*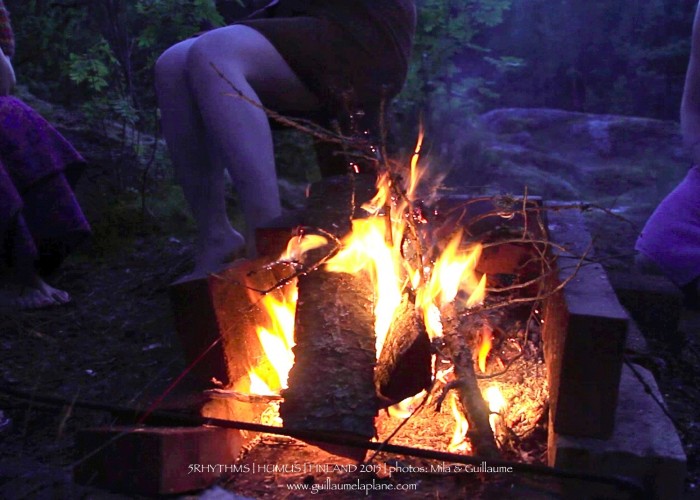 5Rhythms® & Elemental Explorations – Live Music 
– Moss, Forest, Fire, Lake, Light, Sauna – Dancing Outdoor – Live Music – Rituals
« In the dance, we discover we're everything and we're nothing. And those are both very big.
Then we go through life, trying to be something and that is very small. »
Gabrielle Roth
Our connection to the earth is the base of a nourishing sense of being alive.
On a universal level, nothing is missing, everything is perfect.
On a man or woman life level, becoming simply a human being requires a deep sense of trust and a main quality of courage to connect and blossom in who we really are and who we want to become.
Together, awakening and taking care of our unique, precious and organic gift… our body and 
all it's waves of energy, our emotions and heart history, our mind complex and clever, and our creative soul . We will invite and generate a space and energy field to fulfill our basic needs, being touched, loved, challenged, energized, moved, embraced and seen as we are.
We will open the aliveness of our senses in contact to our natural environment exploring movement outside to empower our creative energy and inspire all the cleaver decisions that build the goodness of leaving the life we live. The intelligence of our humanity and the 5Rhythms work in harmony toward well-balanced state of being in every moment. "I open the gateways of movement, touch, sounds, words, rituals, play and silence, welcoming everyone as you are, challenging and taking care. In my experience everyone have it's own medicine for the group and the group it's own for the world, the high vibration of nature have its own medicine for each of us and it is a precious gift to share this conscious journey together" Guillaume 
If you have any questions don't hesitate. rebalancingfinland@gmail.com +358 45 208 83 50 
See you there From the heart Adam and Guillaume♥ 
AQUATERRA
*
Iceland – July 8th-13th, 2018
Volcano and horse connections
Exploration in hot water, outdoors and indoors dances.
Registrations and workshop details:
Contact Guillaume Laplane (En./ Fr.) guillaume5rhythms@gmail.com /+33 6 65 60 47 18
*
beautiful video from Sébastien Khayati
last year workshop in May 2015
vous trouverez les informations dans la section en anglais, n'hésitez pas à m'appeler si il y a des informations que vous ne comprenez pas, le stage sera en Anglais et Français… +33 6 65 60 47 18 ou guillaume.laplane@gmail.com
5Rhythms® & Elemental Explorations – July
 8th – 13th 2018 – Hight lands from Reykjavik – ICELAND
Opening the doors… to our natural self, organic, sensorial, wild, powerful, sensitive, authentic…touching, smelling, tasting, feeling, celebrating or senses… Every embodied moment in contact with the elements & the specific qualities of natural places reveals essential teachings to us… Being present… embodied, receptive, taking space, playing with the un
known, feeling our empowerment and honouring or experiences. 5Rhythms, 6 days, 5 Elements, 5 Specific sites of exploration.
Our physical & energetic bodies are already and permanently receiving and responding to the multiple environnement we experience in our daily life. We are often only few breaths away from feeling and embracing all the magical and universal connections we are designed to enjoy in our existence as human beings.
One blessed day, the dance became our practice, our gateway to relax or mind, energise our body, empower our hearts and give space to our creative soul… at every dance since then a sense of aliveness and a deeper level of presence opens in us.
This week of explorations will be physical, embracing all emotions and states of mind using the high goodness of collective human intelligence and the high earth vibrations to support and go further in our individual journeys into life. Hands on rocks, skin in water, spring is in the air… waves of heat, alive sexual energy, unspoken wisdoms, intuitions, waterfall whispers, conscious touch, eye gazing, body contact, ancient memories, clear visions, ice on black sands… all become source of inspiration. Playing, laughing, falling into love, cocooning into movement, screaming and being silent, universal connections, this is a journey into the untamed landscapes of our souls freeing the unpredictable and unlimited goodness of being human.
We will connect with horses during 1 day and explore how our dance take place on a sensitive level with them.
Program frame in preparation:
Sat Arrival and start
Sun Sakalakot Hotel Dancing Horse Connection & afternoon horse Ride
Mon Ice lagoon
Tue Dancing Black Beach Day / Late arrival to Laugarvatn Hotel (3 nights)
Wed Dancing Geysir / Gullfoss / Þingvellir / Laugarvatn Lake & Spa
Thu Dancing Reykjadalur River
Fri Dancing Blue Lagoon – Dinner & night in Reykjavík (1 night)

BLISS IBIZA – 5Rhythms Outdoors
July 22th-27th, 2018
The workshop will be taught in English, translated in French and Spanish
30h of Waves® that count as prerequisite for the 5Rhythms® teacher training.
The sessions will take place on our outdoor dance deck and on the different natural sites
off the Island.
booking and details:
guillaume.laplane@gmail.com
+33 6 65 60 47 18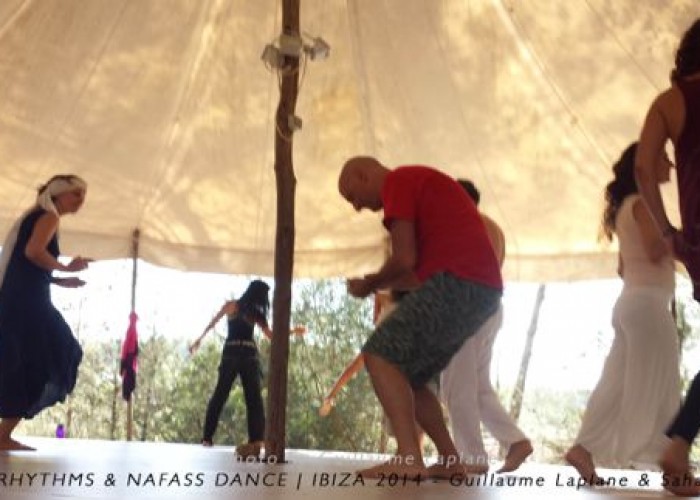 5Rhythms® & Elemental Explorations – Live Music
" BLISS " is an invitation for you to dive deeper into yourself through dance and meditation.
We will explore energy waves and rhythms in connection to Nature in each moment of our resourcing presence.
We will have 2 sessions per day of 2,5 hours of dance, moving meditation and sensorial explorations on the garden dance deck, on the beach and in the forest with live music.
We will also have some time off to relax or share other fun creative activities in Ibiza's beautiful Nature.
THE PLACE :
Our pretty retreat center in the natural north of the island offers the ideal envir
onment for a peaceful and fun retreat: heavenly landscape far from noise and crowds with an outdoor private wooden dance floor deck under a white canopy, a swimming pool in the middle of a mediterranean garden, cosy rooms and a nice kitchen with a private chef cooking organic meals.
MASSAGE therapy sessions will be available by Angel, Sandra and Shambala: Lomi lomi Nui, Ancient Hawaiian Bodywork, Cranio Sacral Therapy And the live music sessions.
informations: Contact Guillaume (En./Es./Fr.) guillaume.laplane@gmail.com / +33 6 65 60 47 18